Hydrogen Gas injector
Hydrogen Gas injector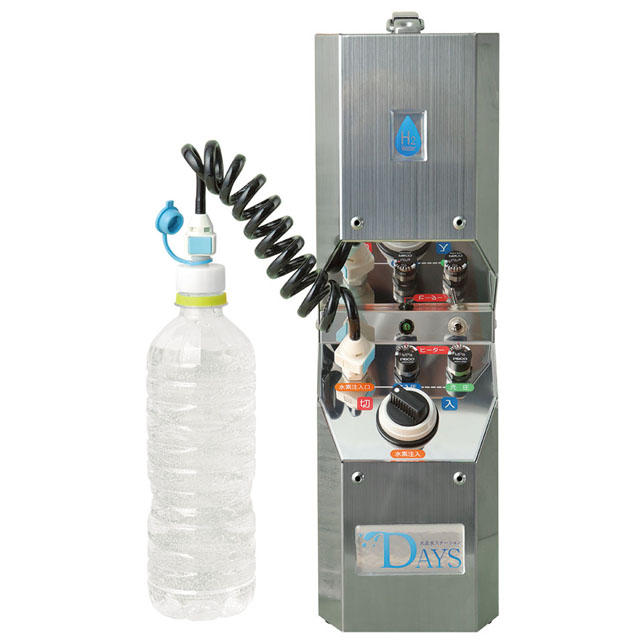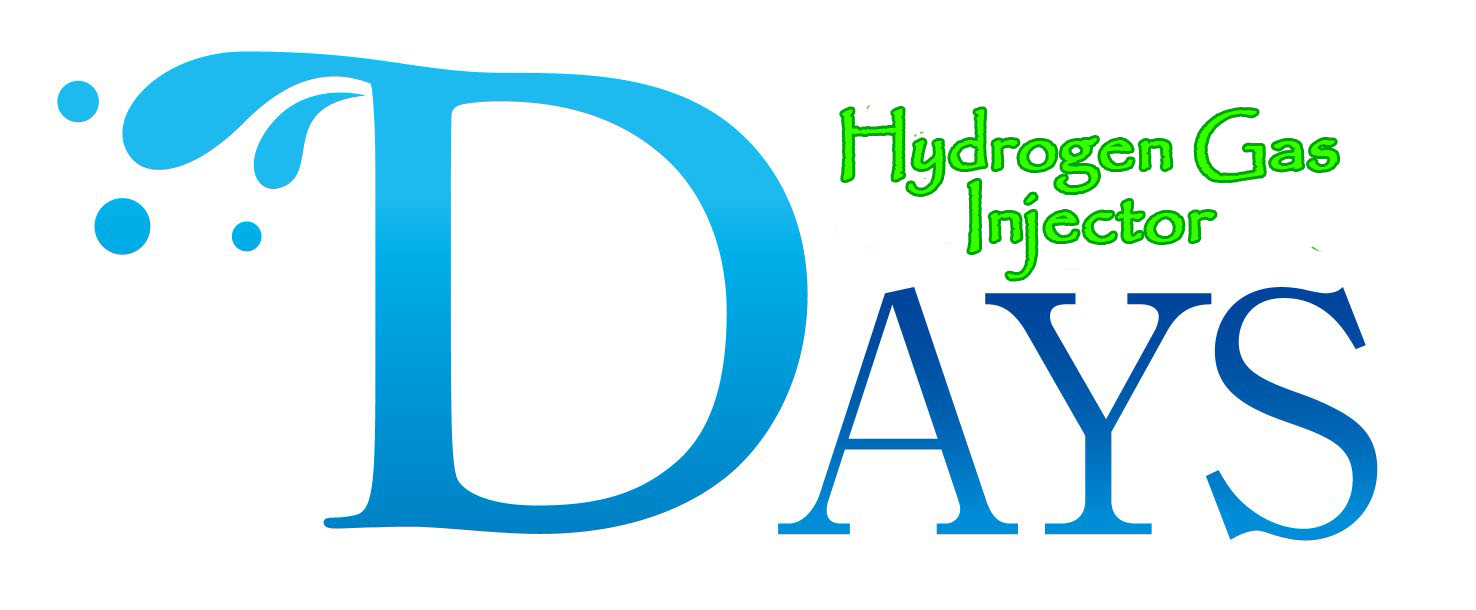 Unique hydrogen gas injection brand
It only takes 3 seconds to generate high-concentration hydrogen mineral water, hydrogen hot water, hydrogen hot/cold tea, hydrogen hot/cold coffee, hydrogen hot/cold milk, hydrogen iced juice and other flavor beverages without being affected by temperature and water quality. ONE AND ONLY! Patented technology.
Features:
Concentration: 1.6ppm~10ppm+ *
No need to set up.
Suitable for various hydrogen beverages.
Compact size / Light weight
*This data of hydrogen water concentration is provided by
JHyPA (Japanese Molecule Hydrogen Promotion Association)
Measuring method : Gas Chromatography (GC)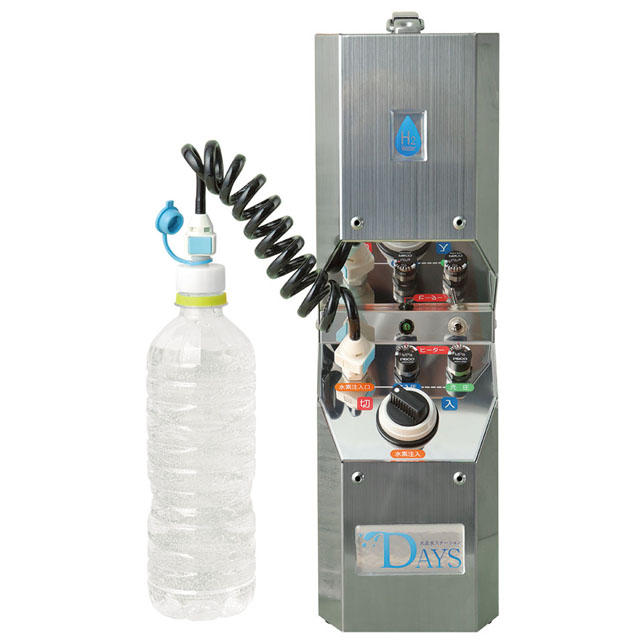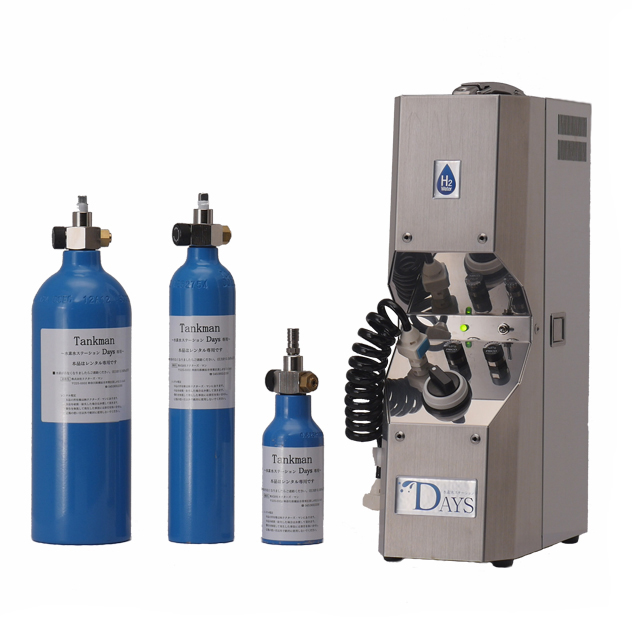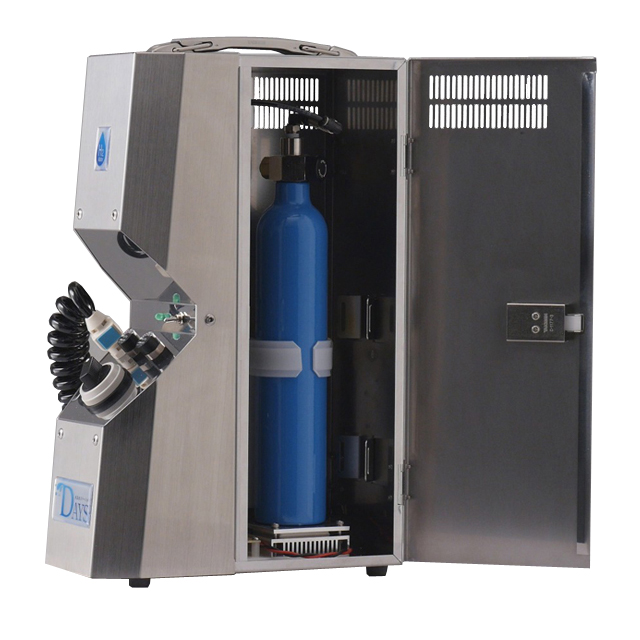 Hydrogen Gas Injector DAYS – story behind its development
"I want my patients to drink good Hydrogen water easily for their treatment"

The words we heard in conversation with one doctor was the beginning of the whole story to do with DAYS.
This Medical Doctor visited Doctors Man and told us about the patients at his hospital.
He said good effect is expected if his patients undergoing dialysis treatment would take good hydrogen.
But it is difficult for the elderly and the sick to drink a lot of water.
So he was asking Doctors Man if it is possible to take good volume of hydrogen by drinking small volume of water.
etc.
This became a strong motivation for new product development.
And finally we developed DAYS which enables to inject high concentration Hydrogen Gas into beverages.
Good Hydrogen effect to be provided to every people.
DAYS is one of the answers to this.
Hi-Concentration Gas Injection – New style of taking Hydrogen Beverage
DAYS is a unique system.
Unlike the other Hydrogen Water Generators, it doesn't generate Hydrogen Water.
Instead, it injects high concentration hydrogen Gas into the beverage in your plastic bottle.

You can instantly generate various of high-concentration hydrogen beverages without being affected by water temperature, such as hydrogen juice, hydrogen milk, hydrogen tea,
hydrogen coffee, hydrogen mineral water,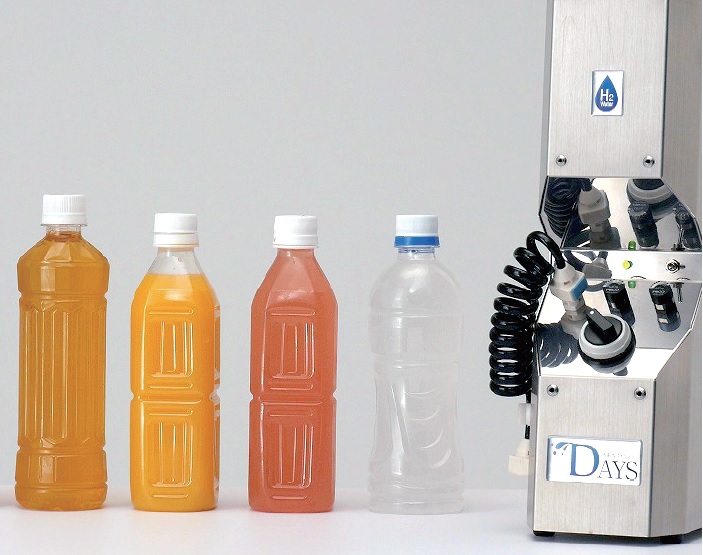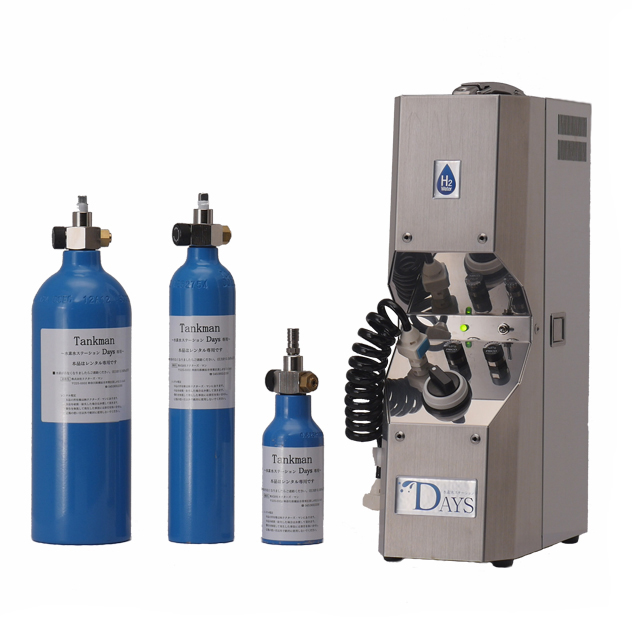 You can do the same Hydrogen Injection with our Hydrogen Gas INHALER of course.
But this DAYS system is specialized for Injection.
DAYS has a special Hydrogen Container Tank – the TANKMAN
inside its body. Hydrogen Gas is injected at high pressure from this tank to the beverage bottle.
Once the TANKMAN gets empty, you can recharge Hydrogen gas from INHALER to TANKMAN.
You have INHALER as Hydrogen Gas Station to recharge the TANKMAN and deliver the charged tank to the users of DAYS system at offices, clinics, residence and elsewhere.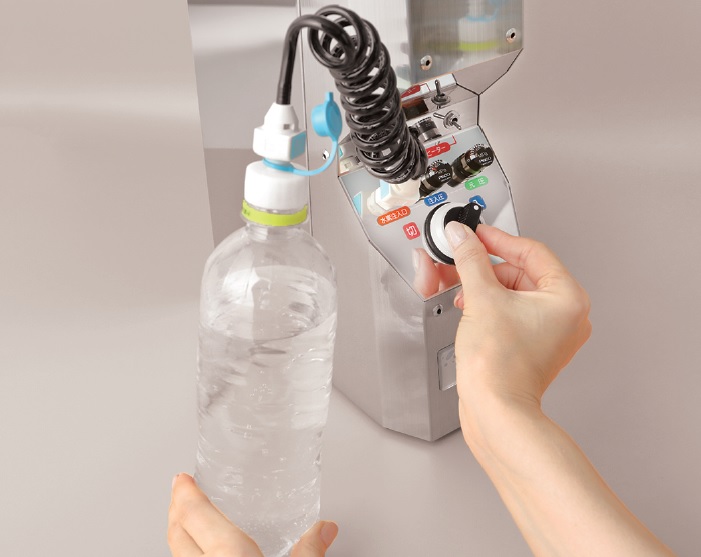 Only takes 3 seconds to finish injection
The purity of hydrogen over 99.9%. Hydrogen concentration can reach 3-10ppm by adjusting the pressure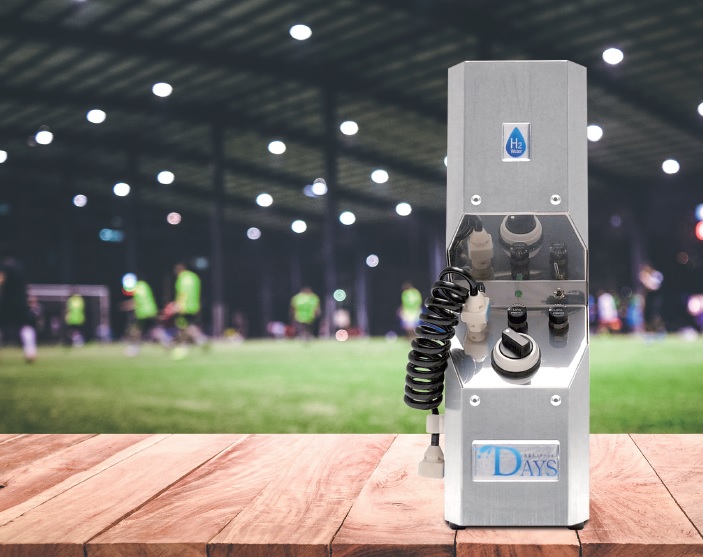 Desk top type, compact size, light weight, no power required, easy to carry
DAYS is not only suitable for indoors such as restaurants, bars, but also outdoor activities such as picnics and camping without power supply requirement. It is suitable for both commercial and home use.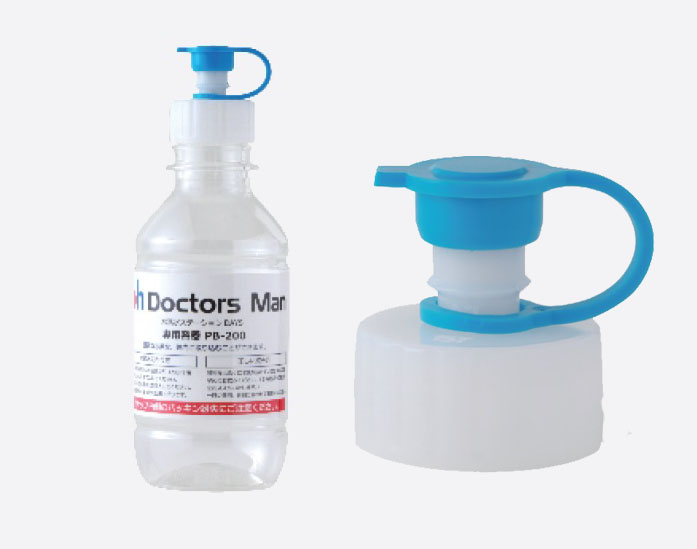 Reusable dedicated cap with a check valve
This dedicated cap with a check valve is designed for DAYS. Its small top hole prevents air from entering bottle, keeping the bottle at a high pressure state and maintaining high hydrogen concentration for a longer time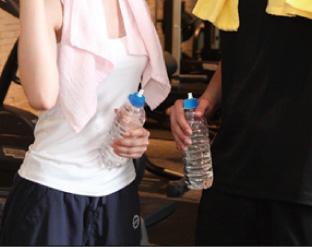 Suitable for many people continuous use
This bottle with the dedicated cap is easy to carry, suitable for membership facilities such as gyms, golf clubs, beauty salons, yoga studios and hot spring clubs, etc.
Hydrogen Gas Injection – 3 steps easy operation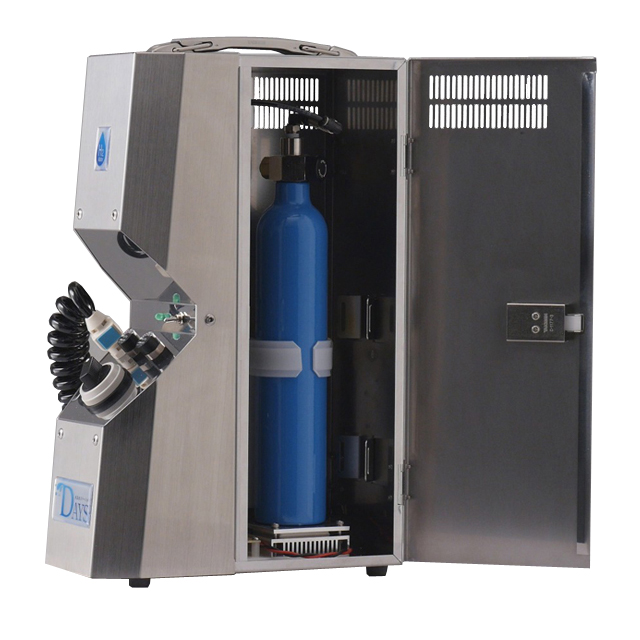 Stable pressure and safe operation
Hydrogen concentration
Standard range : 3-10ppm
It can be adjusted down to 1.6ppm /
up to 16ppm upon requests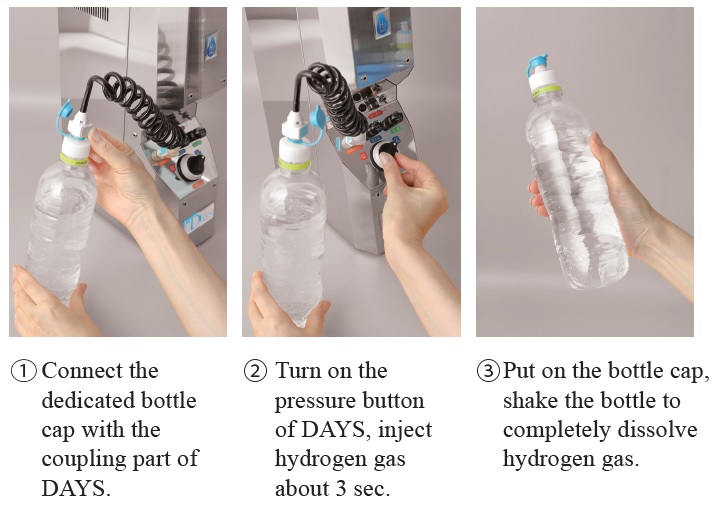 Hydrogen Gas distribution network – Sample business case in Japan
In Japan, Doctors Man organizes Hydrogen Gas Network of DAYS users.
Users are registered in membership of hydrogen distribution service upon monthly basis.
When the hydrogen gas in the tank is getting empty, we deliver charged TANKMAN to the member and pick the empty ones back to the filling station. Back at the station, we recharge the tank with hydrogen gas by connecting to INHALER.
This circulation network enables members to enjoy taking high concentration Hydrogen Beverage any time they want.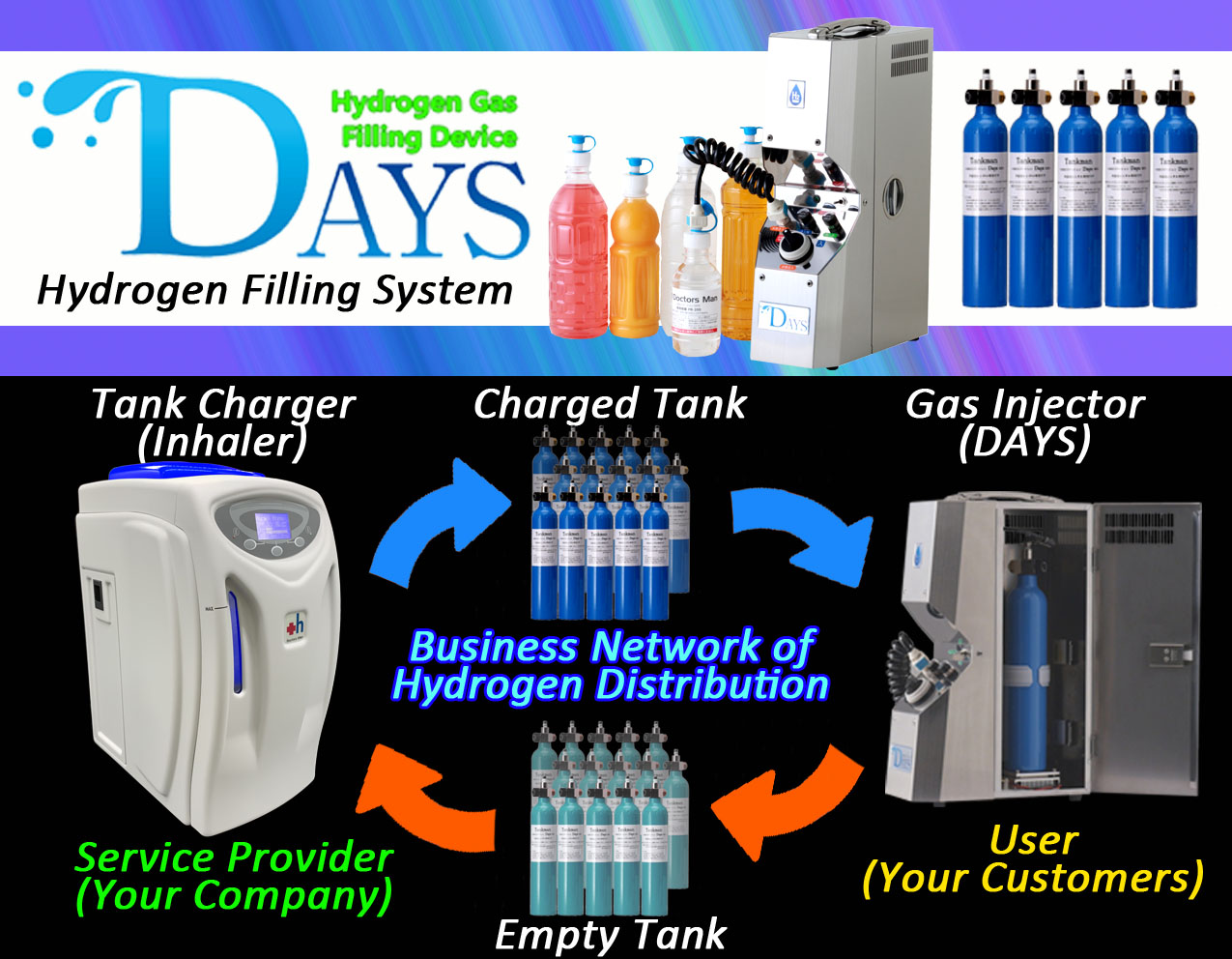 DAYS system in Medical Researches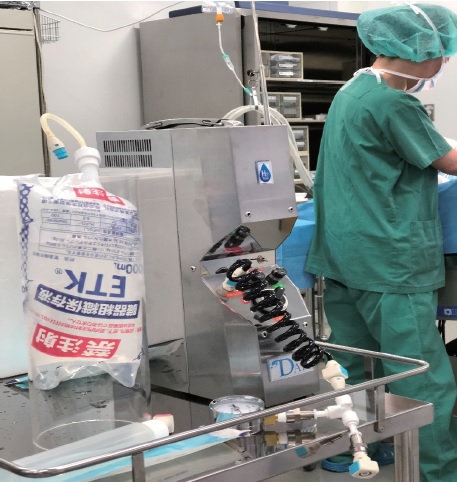 This unique DAYS system is also seen in the fields of medical researches for its high concentration pure hydrogen gas injection feature.
And of course it is valued because DAYS can inject hydrogen gas into any liquid.
An example of using DAYS in the medical field is organ transplantation.
There are cases in university hospitals where high-concentration hydrogen is dissolved in a culture solution and used to maintain the freshness of organs.
Doctors Man PRESS RELEASE link
More usages upon demands are expected in different fields as well.
Specification
DAYS
Model
TM-1
Dimension
W110 x D230 x H360
Weight
5kg (inclusive of 200L hydrogen tank)
Rated Voltage
AC100V (when using heater)
Rated Frequency
50-60Hz
Hydrogen generation pressure
2-3 atm (MAX9atm)
Dissolving Hydrogen Concentration
1.6-10ppm+ *
**This data of hydrogen water concentration is provided by JHyPA (Japanese Molecule Hydrogen Promotion Association)
Measuring method : Gas Chromatography (GC)
Product Movie